I'm definitely against the idea of replacing npcs with paper doll system, sharing the same body, for two reasons. First and foremost - we could never achive such a diversity of oddly-looking non-standart (and cartoonish - it is obvious, just look at the pictures) caracters as we have in Daggerfall and the terrible lack of which I feel playing in all the following TES games. Here are some pictures to illustrate what I mean: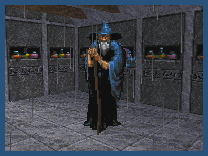 This could be achived only by creating individual models.
The paperdoll system could have make sense for roaming townsfolk, however: they all look the same and sprites for them were likely generated using similar approach. But here we face another problem. Towns are really crowded with them. Giving each of them their own inventory will increase the amount of required calculations tremendously! And, after all, the loot all npcs leave after them is always random and seems to have no connection neither to the type of npc nor to the way they fight. So instead I offer several premade townsfolk npc models which have different chance to appear depending on the region (it is obviously that in Sentinel the majority of the citizens are redguards, while in Wayrest we will likely meet more bretons in the streets).
The best place to use paper-doll approach is a pc inventory. I even made a fast sketch of how it could look like some years ago
https://youtu.be/K9PqMZZ6Pdo
(certainly I had very little modelling skills then, but the general idea was qite obvious.