Ok. Final Critiques on this one: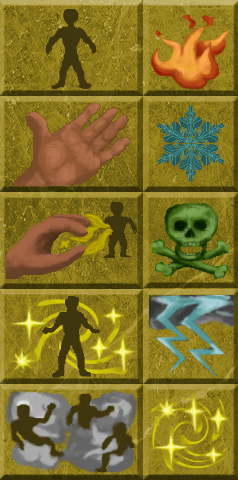 ---
Posts: 2166
Joined: Mon Oct 17, 2016 11:18 pm
Location: Scourg Barrow (CZ)
Contact:
Looking great. If the icons are separated objects, Id add a shadow beneath them, to make it work with the background better and to make the icons pop a bit more. It adds some depth and deffinition

I like the swirling magic effects. Id say the fire icon has some of those as well in the original. Above the fire... not sure if its possible to add it (if it will look good) But the icons are really good IMO

I did a dirty example of shadows, its subtle but works wonders (distance 0, spread 15, size 9, opacity 36 (might be a bit more for a final))
PS: if its in PSD and the layers are separated, I can add the shadows on my own
---
Here's some files for what I've done so far.
https://www.mediafire.com/file/9gqsb3lq ... B.psd/file
https://www.mediafire.com/file/7wjvj26r ... A.psd/file
Also got this: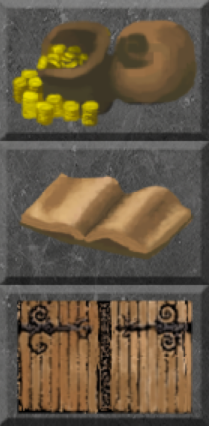 I think it'd be best if you used one of your door textures for the exit button.
---
Posts: 2166
Joined: Mon Oct 17, 2016 11:18 pm
Location: Scourg Barrow (CZ)
Contact:
Thank you! The idea with doors makes sense, I can do that indeed
Downloaded and will add the subtle shadows, thank a ton, its beautiful!!
From this main tab, I will create 3 more. Good thing is, that these nice icons will transfer to the spellbook as well.
All will fit together!
One last button mate

Thank you!
---
---
Posts: 2166
Joined: Mon Oct 17, 2016 11:18 pm
Location: Scourg Barrow (CZ)
Contact:
Perfect, thank you!
Im putting it all together, found some bugs when importing the new images. Thats not unusual, just filled the report to The Lacus about it.
I will showcase it when it works ingame soon .)
Ive also improved my spellbook a bit - added frames around the spell effects and icon.
Plus I have one more improvement of the spellmaker in mind
This is the menu, rest will follow
Ive used Sharpen on the BUY/NEW icons, it make it pop a bit more. Ive kept the exit icon, just cut it off a bit from left
I like the results on this, great stuff! Thank you

---
Nice to see it all come together! I'm happy I could help!
---
Posts: 2166
Joined: Mon Oct 17, 2016 11:18 pm
Location: Scourg Barrow (CZ)
Contact:
Thank you. Im thinking about adding "Add Effect" text to that square button.
Its quite confusing as it is - for newcomers.
I experimented with it yesterday evening, got ok results, than photoshop crashed LOL
Anyway, good news.
DREAM - MUSIC
ByteMixer (
viewtopic.php?f=27&t=921
) kindly agreed to my question about making his awesome music remaster a official Dream Soundtrack. So in next release, there will be DREAM - MUSIC package as well. Tick it ON, and you have new music ingame. More convenient than copying all the files to Music folder IMO. And more consistent for the end user. Plus if I set everything right, it might be more friendly to our PC performance than the loose files.
DREAM - SOUNDS
Ive been experimenting with the sound replacements. The base for this experiments is the excellent mod "Cleaned Sound Clips" by Pango.
viewtopic.php?f=27&t=1692
What I did so far, is that Ive added very decent Reverb to the dungeon sounds. Sounds which play just in dungeons. I was very careful about that. So dont be affraid you will get echo on sounds outside. This change created a bit more natural and advanced sound. But its so decent, that if I have not told you, you wont notice it possibly. And thats good in my book.
2nd stage is sound replacement. What I did is for example create a new sound effects for a Giant Bat. Which previously sounded the same as a Giant Rat. So now the bat has unique sounds and its again beneficial to the game.
Ive added new fire cracking effect, so torches and fireplaces have a longer loop to play.
Ive added new "ambient crickets" sound, its 15 second long (old was 1 second) and its very soft compared to old one. Its decent, and very realistic. Im quite sure these crickets are very much better than originals. And it adds a lot to night atmosphere.
This will continue on...
My plan is also creating a
DREAM - CINEMATICs
In fact, I have it on my HDD and its working. I just wait if I get a confirmation from Rhymer... if I can use his files. This is something for the future... I want to add other remade cinematics from the community, will take some more time and agreements with said members. Fingers crossed.
---
Posts: 2166
Joined: Mon Oct 17, 2016 11:18 pm
Location: Scourg Barrow (CZ)
Contact:
Ingame, with colorized add effect button plus Ive added the description text to it.
Or actually this might be better and more consistent with the rest of this tab layout. Not sure, 1st one is more intuitive maybe?
---
Posts: 235
Joined: Wed Jul 19, 2017 10:35 pm
Looks amazing! I prefer the 2nd one

---