A long time ago, as an 11-year old playing this game, I roleplayed a do-gooder Paladin character. I was really pleased with my Nord custom class. I enjoyed choosing from the different Knightly orders in the game and how they were specific to each region. I spent a lot of time lost in dungeons, eventually finding my way out and rising up the ranks in the Order.
During my dungeon crawls, I noticed killing monsters was becoming a lot easier. At some point I opened up my profile and noticed my stats were abnormally high. It didn't make sense. I thought it might be some kind of bug that made me overpowered.
Then came the moment of shock... one day I finished up a quest, fast-traveled to the city and arrived in the middle of the night.
I was utterly stunned to see that my interface, instead of the usual weapon drawn, were two monstrous hands and there was the caption "in the middle of the night you transform" or something to that effect. I opened up the character sheet, and instead of my carefully-designed paladin, I saw a giant picture of a hideous WEREBOAR.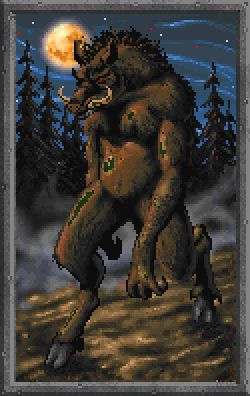 WTF?
I thought this was permanent, and I wouldn't be able to recover my real character. I didn't have any previous saved games to backtrack. I was mortified.
Without all the metagaming it was incredibly immersive to be caught by lycanthropy off-guard. I had no previous save games and I was really upset about it! As a kid, I didn't want my paladin character to be an ugly pig! I mean, a werewolf might have been a little cooler, but a freakin' ugly pig! No way! Back then, this was 1996, there wasn't much information/walkthroughs for the game online, and it took a hell of a lot of effort to figure out how to cure lycanthropy.
Eventually I did cure the disease, and it was one of my most satisfying moments in the game back then. It really sneaked up on me.